School might finally be out but as a teacher school is always on my mind.
What new ideas I can use with my new class?
Are there any new bloggers or TpT sellers I should follow?
What new Common Core products are uploaded that I might need for next year?
These are just a few of the questions that I have running through my mind now as I start thinking and planning for next year.
I always seem to wait to the last minute and then rush around to try and get ready for the the new school year.
But this year I have it all under control with the help of my fellow Primary Peeps.
I am so honored to be a member of this great group of teacher bloggers.
Each week we are going to share a back to school tip or tool and some goodies with you to help you prepare early for the new year.
If you haven't checked out or followed this great friends of mine, I strongly recommend that you do.
Trust me you don't want to miss out on all the great ideas we have planned for you.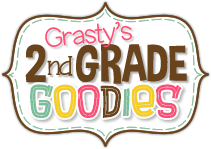 First up is Leah from Grasty's 2nd Grade Goodies and boy does she have a great little gem for you.
She is blogging about her 2nd Grade Common Core Math Planning Pack.
And it's a freebie over on her blog.
Hurry up and head on over to snag it!!!
Don't forget to check back next week for a new Tips and Tool for Back to School coming to you from
Missy from
The Dirt Road Teacher
!!