This past week we were reading Mr. Bones from our Reading Street series.
It's a bibliography about Barnum Brown, the dinosaur hunter.
It's a really great little story and I came up with so many ideas to use for centers.
Today I want to share the reading and math centers my kiddos got to enjoy.
I have a hard time with finding time for centers so I decided to have 2 reading/spelling type centers and 2 math related centers. This way I can get both in during the day. It also didn't help that we had a snow day on Monday and a delay on Tuesday. No wander I can't fit everything in:(
Anyway here are the 2 reading centers.
We used my Mr. Bones Tic-Tac- Toe game from this little simple center.
The kids read the oa or ow words. If they got it correct they placed an x or an o on the game board.
3 in a row wins. It was a huge hit!!
I laminated the board game and the kiddos use dry erase markers to play.
It's a super easy and fun way to learn those skills.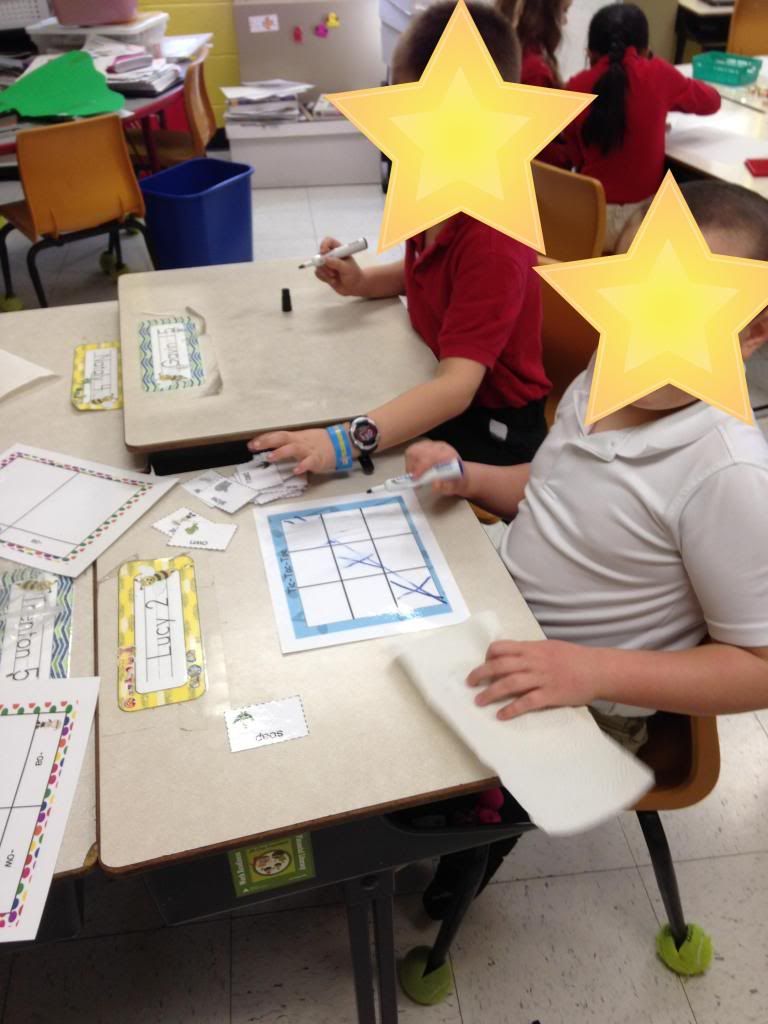 The other center was stamp your spelling words.
I had gotten these neat little stampers at Target.
The kiddos stamped out their oa, ow spelling words on writing paper.
They really enjoyed stamping out their names.
Next time I plan on having different colored stamp pads to use too.
I whipped these little Math centers up last Sunday night for my kiddos to use the next day.
Of course we had a snow day on Monday so we had to wait until Tuesday to use them.
Meet My Dino Family is a fact family game.
Students picked a dino card and then made a fact family out of the 3 numbers on the card.
Eggcellent Subtracting Dinos game.
It's hard to tell from the pic but each Easter egg has a strip of paper with a simple subtraction problem on it.
Kiddos picked an egg and opened it.
They then recorded the problem on the recording sheet and answered it.
Who knew that putting subtraction problems in cheep plastic eggs wold make it a fun game;)
You can check out Mr. Bones sorting center at my TpT store.
It also has several other ways to play this game center other than the Tic-Tac-Toe.
These little math centers are FREE at my store.
Click on the pictures to grab them.
Please leave a little feedback it you grab it.
Have an AWESOME Saturday!!