This should be a Teachers Inspire Teachers post but I let time get away from me and didn't have it ready.
But that's OK it will be back next Sunday.
I was a little bit bummed until I realized that it was time for
Farley's December Currently
.
So without further adieu here is my currently.
Right now my 2 littlest kiddos are playing in the living room. One is on a tablet and the other is playing with all the Christmas decorations we just put up.
I am loving our real Christmas tree. We haven't had one in a very long time. Our fake tree has seen better days and we were going to get another one. But we decided to give a real tree a try again this year. I'm really glad we did so far.
I am thinking we must be crazy to have brought another puppy into our house. Our next door neighbor brought over a puppy yesterday and we ended up keeping it. This brings our total of dogs to 6!!!!!!!
Walker has a sad story. He was left in a box along with his mother and 5 other brothers and sisters behind a Save-a-lot store. We just couldn't pass up that adorable face. He is about 8 weeks old and is very healthy. The other dogs don't really care for him but they aren't being mean, just marking their territory:/
I really want and need a new printer for home. Mine kicked the bucket this week. It wasn't even a year old!! I really liked it too when it was working. It was a Kodak. Anyone else have trouble with that brand? I have a hp at school and I love it. It just didn't do everything that the other one did.
So now that my printer at home doesn't work I really need ink for my school printer. I'm out and I haven't even printed out centers for this week. I guess I'll have to improvise tomorrow.
One of my favorite traditions is going to the mall and having a new family ornament made each year. I have to confess that there are a few years that we didn't make it to the mall to get it and I made the promise last year that I would make sure we got them from now on. We still need to get this year's ornament.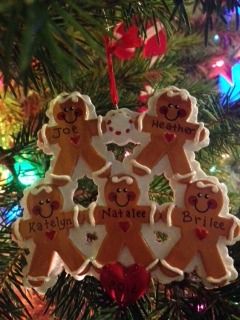 This is last year's ornament.
On a final note I'm sure you all know by now that TpT is having a Cyber sale Monday and Tuesday. I just want to remind you that my little store will joining in on that sale too. Happy shopping!!