We made pilgrim boys and girls to sit on our desk.
It cutesified our room.
We have been working on plant parts and their jobs for the plant.
This is still in construction but they are turning out wonderful!
The kiddos had a blast sorting and connecting the cubes.
Now they are ready for adding and subtracting with those cubes.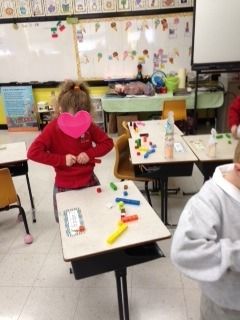 The cubes from above along with some tops off bottles are about the only math manipulatives I have in my room. So when I saw that Carson Dellosa was having a 50% off sale and $5.95 flat rate shipping I had to get some. Actually I went back and bought a little more too;) I can't wait for it all to come.
We watched the Scholastic video about the Mayflower.
The kids then illustrated the Mayflower and had to write one good sentence about something they had learned from the video.