I have had this idea in my head for sometime now and just didn't have the gumption to get it started.
I finally made myself sit down and work on it and I'm very pleased with it.
It has been a very eye opening experience.
I had no idea what I was doing and it was scary.
What if I do it wrong? What if no one wants to link up? What if some one does link up?
Hey those are just a few of the fears that were running around my head as I worked on this.
Then it hit me. Don't sweat it. It is what it is.
If I'm the only one linking up that's OK.
If I do it wrong that's OK. It's a learning experience.
If someone wants to link up wonderful.
So I decided to start a weekly linky party. Teachers Inspire Teachers
It's perfect from where I'm standing, because I have been inspired by so many other teachers that I will most likely never in my lifetime get to meet. So this is my little way of saying THANKS for helping and being there for me. When they didn't even know they were doing it.
YOU have inspired me to be a better teacher and person.
So each Sunday I have decided to write a post about one teacher/blogger/artist that has inspired me in someway.
I will have the linky open for the whole week so if you would like to post about a teacher or someone that has inspired you don't have to do it on Sunday. You can link up anytime it is good for you. If you don't blog you can instagram and use the #teachersinspireteachers to linkup.
I'm going to tell you a little about a wonderful kindergarten teacher today.
You might already follow him on his blog. If you don't you really should.
Mr. Greg from Kindergarten Smorgasbord.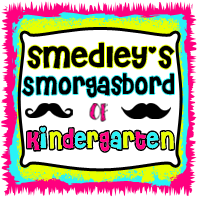 I have been inspired by his love of teaching to step up my own game in my first grade classroom.
Every year I have tried to work centers into my routine. And every year I have let it fall right back out. This year I have decided that is not going to happen.
Mr. Greg is helping me out with this and doesn't even know it.
This pack has over 85 pages of finger licking goodness in it.
It's perfect for my first graders as they start working on addition and review numbers.
The literacy part will be a wonderful way for my kiddos to have fun and review
beginning sounds too. And they can always use some more practice on handwriting;)
In fact I'm printing as I'm writing this. The kids are going to adore these centers.
Happy kiddos = Happy teacher.
Here is a peek at the Math part of this pack!!
Ten frames
These will be great to pitch into my math center.
The kiddos already know how to use these.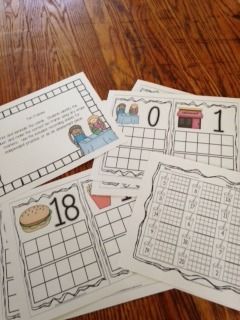 Count by 10
Super fun way to review this skill.
I'm super excited to use this.
Intro to addition, just what we are starting this week!!!
Count on
My kiddos can always use practice with this.
That is just a look at the math part of this packet.
It still has a literacy part too!!
I'm printing that part off to use as practice with my little darlings.
Mr. Greg has not only inspired me in my classroom.
He has inspired me with my home also.
I'm sure he didn't realize all those wonderful pictures he was put on instagram were showing me how pathetic my house looked in comparison.
It got me thinking. I know that can be a scary thought but I started to realize I really needed to take control of my life and work on making it better.
I am very happy to say that I have been cleaning up my house. I have been in a rut for far too long.
I have ripped up old carpet to reveal the hardwood below. Now my hardwood isn't perfect but it has character and I LOVE it. I only wish I had done it sooner.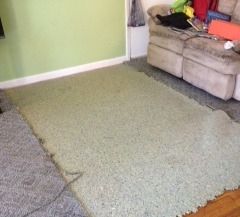 before
after
I also got rid of the old furniture and bought some new!!
Out with that horrible stone colored stuff and on to the chocolate brown.
My son has already pegged this chair as his. We also got another chair and a double recliner. No couch or sofa. This leaves a lot more room in our living room.
I also began cleaning up the basement. No pictures there. I would be mortified to show you what it looks like now. But I have a plan for an office down there and I can't wait. The kitchen table is not working out as well for The Busy Busy Hive production. Just not enough space to work and the family actually wants to eat there sometime. Go figure;)
So these are just a few of the ways Mr. Greg has inspired my life at home and in the classroom.
I highly recommend checking out his blog and stores. If you're not following him you should. Take my word for it. You won't be disappointed.
Now it's your turn.
What teacher has inspired you and how?
If you would like to link up please do.