Today was the 20th day of school for us.
So that made it a Zero the Hero day.
We got to do a few activities with 20.
We sorted and counted by 5's. Then we sorted and counted by 10's and lastly we counted by 1's to 20.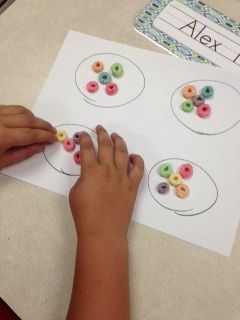 We also used our Tootie Fruities to make the number 20.
They used 10 for the 2 and 10 for the 0.
Then they were allowed to eat them.
It was like magic!
Who knew what a hit cheep cereal could be;)
We also compared some numbers today.
I very quickly made up each of my 15 cuties a Pac Man to use during math.
I told them that Pac Man was very hungry and would only eat the bigger number.
They loved it!!
This week we have been reading the story The Big Blue Ox from our Reading Street book.
During center time my cuties used our short i shorting game as a center.
These kiddos had finished the sort and then made a short i pyramid.
They also worked on sight words by raking in the sight words.
I have magnets on the ends of the rakes and then the sight word leaves have paper clips to help pick them up. You have to rake them just right for it to really work, but the kids enjoyed it.
I just changed out my FB Fan Freebie. For now I have a zipped file of my Boy and Girl inspired ten frames.
If your interested in our centers you can get them at my TpT store.