Today I'm linking up again with
Blog Hoppin'
to give you a sneak peek into my classroom.
I wish it was the BIG reveal but I'm not allowed into my room today to because they are waxing the hallway floors. And I forgot to take pictures the other day when I was there.
So here are just a few teasers of my room. I promise to have a big reveal of my second home next week.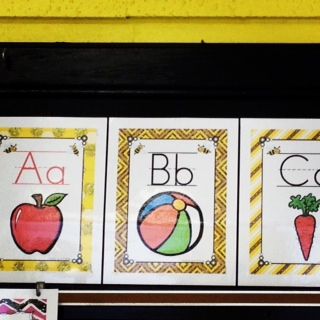 My new alphabet!!
New behavior clip chart!!
My back to school books are out and ready to go. This is my newest hive. I have several bees and hives throughout my room. I love them and I'm always on the lookout for more;)
So that is just a little sneak peak into my classroom. I have my Meet the Teacher day on Sunday so I really need to have my room pretty much done by then. I promise to show it off as soon as I can. I really am proud of how it looks this year. I have learnt so many tips and tricks for all the wonderful bloggers out there and I am fully taking advantage of your knowledge . Thanks!!