I am on Spring Break this week and it has started off not so good.
My son woke up this morning around 5:30 not feeling well.
As the day went on he would be sick then OK.
He went to sleep around 7pm and now he is up and ready to go:(
Not boding good for me when I try to put him back to sleep around 8:30.
So I'm going to link up with Farley and hope for the best and a better day tomorrow.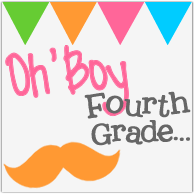 Really the Hubby is channel surfing so he's watching Fast N' Loud now;)
I'm loving that I'm on Spring Break. I don't have a lot planned this week except for tomorrow.
My oldest has a braces consultation and my youngest has speech. I need to make the youngest an eye exam appointment too.
My next Science unit is on the Sky and weather. I'm excited to start this unit. One of my kiddos is really into the weather. He even go to go the the local TV station and learn all about it from on of the meteorologist. He also has several weather instruments too. I also want to create a unit on this and maybe put it in my store. We'll have to see about that though.
I really want some nice weather this week but I think it's going to be kind of cool. I think it gets warmer next week once we are back to school.
New clothes. I need them bad but I hate shopping for them. If I could get back into exercising it wouldn't be so bad but of course I'm not so I don't like trying them on right now:(
My advice is for TpT creating and selling:
be patient it doesn't happen over night
. It's hard I know it. I still have to remind myself this. I'm not looking to make a lot I just enjoy knowing that my products are helping other teachers and students. That's what it's really all about to me.