Happy Wednesday Blog Land!!
I was so hoping that we would have snow last night.
Even though it wasn't in the forecast I was still secretly hoping that it would magically appear,
Well it didn't!
What we got was an icy, slushy mess.
Roads are slick, so says the weather woman.
And still we have school.
I was really hoping for a delay schedule.
It looks like snow but it is nothing but ice.
Surpriing the roads were not slick at all once you got out of the neighborhood.
Well today my kiddos have Music and Library all afternoon.
Soooo, I'm going to clean up my room.
My desk is lost under a sea of papers.
And I have things starting to pile up everywhere.
I need to get it cleaned/picked up before it gets any worse.
Hopefully I'll have a cleaned up picture to show tomorrow.
Sadly the rest of my little room looks like this too:(


Giveaways Shout Out
I'm helping out these awesome bloggers with their wonderful giveaways and I want to make sure you know about them.
It would be a shame if you missed them.
Holly's giveaway is fast coming to an end.
You still have a little bit of time to enter if you haven't yet.
Hurry over and enter!!
Click the button to get to the giveaway!!
Sister Teachers's giveaway is still going on too!!
Lot of great prizes you could win.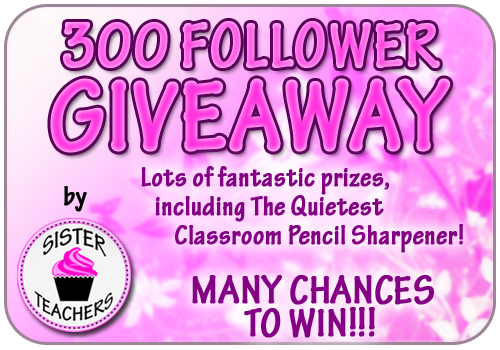 Click the button to get to the giveaway!!
Congrats at reaching 100!!
I'm helping her out by donating an item from my TpT store along
with several other generous bloggers.
Check her out and show her some love:)
Click the button to get to the giveaway!!