Happy Tuesday!!
I am about to make some of you jealous but it just can't be helped.
I only have a 4 day week this week.
Yeppers! We are off on Friday for a Professional Development.
And it gets better, we don't have to do any PD that day.
We just get it off.
Feeling a little jealous...well I'm not finished.
We only have a 4 day week next week too.
We are off on Monday like everyone else for
Dr. Martin Luther King Jr's Holiday.
Yes you read that right I have a 4 day weekend this weekend.
I can't wait.
I already told the Hubby that I was working on TpT centers at least a
few of those days.
I have about 8 more running through my head that I need to get created.
One of my lovely firsties gave me the crayon wreath for Christmas.
Isn't it just the cutest thing!
OK I wanted to share how I use the high frequency words that go with our
reading story each week.
Some of you might already do this too.
I tape them around the door as the students tell me out loud
what each word is.
Then each time we leave the room we read the words.
It is really helpful and the kiddos like it.
I use to have a musical wand that I would tap each word with,
but it got stuck behind the cabinet that is nailed to the wall.
I guess it is still back there:( I loved that thing.
I need to get me another one.
How do you review high frequency words/ sight words?
I'd love to know.
Giveaway Shout outs
I'm helping out some awesome bloggers with their giveaways and
I want to make sure you know about them so you don't miss out on the action.
Jackie and Danielle
@Sister Teachers
are having an amazing 300 Follower Giveaway.
They have 2 different rafflecopters with loads of great prizes.
Check them out:)!!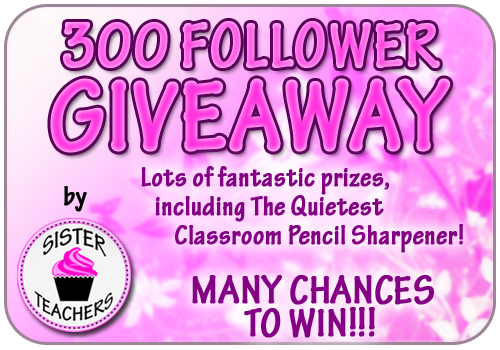 She also has 2 rafflecopters going on for her giveaway.