Holy Moly Guacamole I reached 101 followers!!!!! I can't believe it! I truly never thought it was possible. I am so excited and happy to have each and everyone of you. You totally ROCK!! So that being said I think it is time for me to seriously start planning a give away. If anyone would like to donate to my give away or have any advice I would greatly appreciate it. You can e-mail me if you like and thanks in advance:)
{heather.byers@saintpaulschool.net
}
OK so the hubs is on vacation this week and he kept the little bees while I went and worked on my classroom. It is in no way complete but I was able to work on my focus wall. Here are some pics of what I have so far.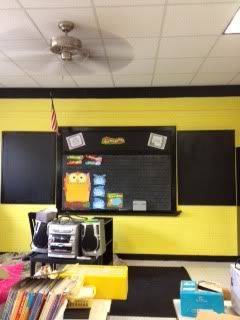 Both the side bulletin boards were
painted black to match.


Green side for the story aspects. Blue side for grammar and
phonics aspects.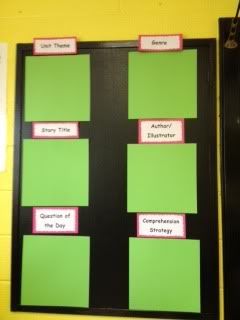 Unit theme, Genre, Story title, author/illustrator,
Question of the day, comprehension strategy.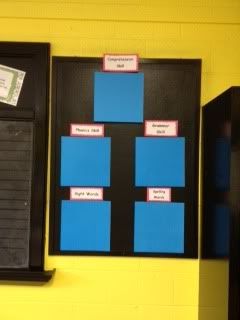 Comprehension, phonics, grammar skills,
sight words, and spelling words.
As you can see I don't have a boarder around the boards. Not sure what to do about that because the boards are small and my pages are big. I think I might boarder the boards on the wall with matching colors to help them flow. I'd love any advice or opinions. What about the 2 different colors? I like them but not sure if they look right. Well that's all for now folks! I'm off to work in my room some more. Maybe inspiration will hit me while I'm there.
Have a great day!!!!!!!